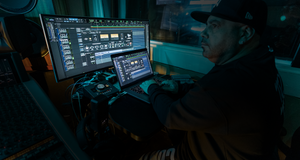 IMMERSE YOURSELF INTO THE WORLD OF
YOU NEED PRO TOOLS ARTIST IF:
They require you to be compatible with professional studios
Pro Tools Artist, thanks to its professional plug-ins, guarantees you maximum compatibility with the entire project for the Pro Tools Studio and Flex systems, the most used in mixing and mastering studios around the world.
You want to work without thinking about it
Pro Tools Artist includes Avid's years of experience gained in professional recording and production studios. Each function is where you expect it and, often, you discover it without looking for it because it is intuitive.
You want extremely precise editing
Recording is only the first step, then there is editing to achieve the professional result. Pro Tools Artist has the same tools and features as the Studio and Flex versions, guaranteeing the best editing ever, for audio or MIDI.
Speed is an important factor
Avid understands how professionals work and developed Pro Tools to meet their needs. Pro Tools Artist has dozens of shortcuts with a flexible workflow that adapts to the way you work, so you don't waste time, wherever you are!
LISTEN TO SUCCESS STORIES
We asked 3 industry professionals to tell us about their experience with Avid Pro Tools: hear them too!
Alex Trecarichi
Studio & Live Sound Engineer, Producer
Works with Max Pezzali, Tananai, Fedez, Mace and many other artists.
Raffaele Stefani
Live & Studio Sound Engineer
He works with Gianna Nannini, Cesare Cremonini, Morgan, Franco Battiato and many other astisti.
Andrea Torresani
Bassist
He works with Vasco Rossi, Franco Battiato, Eros Ramazzotti, Ermal Meta and many other artists.
DOWNLOAD THE TRIAL VERSION